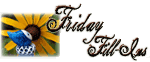 1. When I fell in love,
it was a glorious day
!
2.
I love it
when the flowers bloom and it heats up outside!
Then the boys are able to go outside and play.
3. Oh no! The Internet connection is down,
its time for some uninterrupted knitting while watching Food Network
.
4.
Any reality show
is the craziest tv show ever.
5. Cheese and
sliced apples
make a great meal
for small children!
6.
I am looking forward to having
a garden.
Right now we are deciding what vegetables to plant.
7. And as for the weekend, tonight I'm looking forward to
the Beginner's Drop Spindle class at The Knitting Bee
, tomorrow my plans include
grocery shopping, a trip to the book store and Cost Plus World Market over by Washington Square Mall
and Sunday, I want to
watch the NASCAR Sprint Race at the Talladega Speedway
!