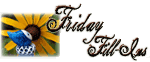 1. Snowdrops are
something that I don't see alot of since moving to the Portland, Oregon area
.
2. I'm going to
work on straightening out the craft area of the spare bedroom.
3.
Faith of the Heart
is a song whose lyrics have meaning to me.
4. Just one sip and
I start to relax with a good cup of tea-chamomille tea
.
5.
With my two little boys and the Chief
is where I'm happiest.
6. I believe that
patience
is a necessary part of life.
7. And as for the weekend, tonight I'm looking forward to
quality knitting time
, tomorrow my plans include
whatever happens to pop up - nothing really planned for the day
and Sunday, I want to
watch the Daytona 500
!