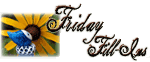 1. My favorite
move
of 2007
was moving into the new house
.
2. I'm most tempted by
sock yarn and cheesecake
.
3. Today I want
to knit all day and watch movies, but there is housework to be done and the boys need to be looked after. At 5 and 2 years old, they are just not old enough to take care of themselves.
4. The last thing I took a picture of was
my WIP of the Summer of Love Lace socks from the Rockin' Sock Club 2007
.
5. You and I have memories
and some of those memories include visits to foreign ports. These I can remember, but why can't I remember where I put my sunglasses? Hopefully they are still in the car's glove compartment.
6. The most recent movie I've seen that I really enjoyed was
Harry Potter and the Order of the Phoenix
.
7. And as for the weekend, tonight I'm looking forward to
some peace and quiet after the kids go to bed
, tomorrow my plans include
grocery shopping and whatever else that comes up
and Sunday, I want to
watch the San Diego Chargers football game. Go Chargers
!